Some Tips for Attending your First Class
Arrive Early
Please arrive at least 15 minutes before class for registration and orientation. All classes start promptly and late arrivals will not be admitted into the class.
Registration and Waiver Form
Click here to fill out the registration form.
Hydrate Yourself
Drink plenty of water throughout the day at least 3-4 L each day.
Food
Refrain from eating 2-3 hours before class.
What to Bring
Water, 2 large towels, and yoga mat. Towels and yoga mat are complimentary on your first class with the purchase of Introductory Offer. These items are all available for rent and for sale at the studio.
What to Wear
Wear breathable, comfortable clothing that you can stretch and sweat in. Sports tops and shorts are the most comfortable. Make sure to bring a change of clothes. Please refrain from wearing perfume, scented oils and lotions. Please remove footwear before entering the yoga room. Shoes and socks are not to be worn in the yoga room.
Have Fun!
Come with an open mind and open heart and be prepared to sweat.
During Class
Maintain Silence in Yoga Room
Please be silent in the yoga room. Walk in and out of the yoga room quietly and close the door quietly behind you. Please turn off all cell phones, pagers, and all watches that beep hourly in the yoga room. The class is practiced in silence. Breathing, concentration, focus, and silence are core skills of a strong yoga practice. Exception: PyroPilates classes, you can introduce yourself to the people around you and talk before the class starts.
Mat Parking
Please check the Mat Parking Chart for the proper way to set up your yoga mat for each different class. For Bikram, Core, and Express Classes, place your mat so that the line on the floor is in the middle of the mat. Make sure you see yourself in the mirror. Using the mirrors will help you build the connection between mind and body, focus, balance, and posture. Please do not block the person behind you.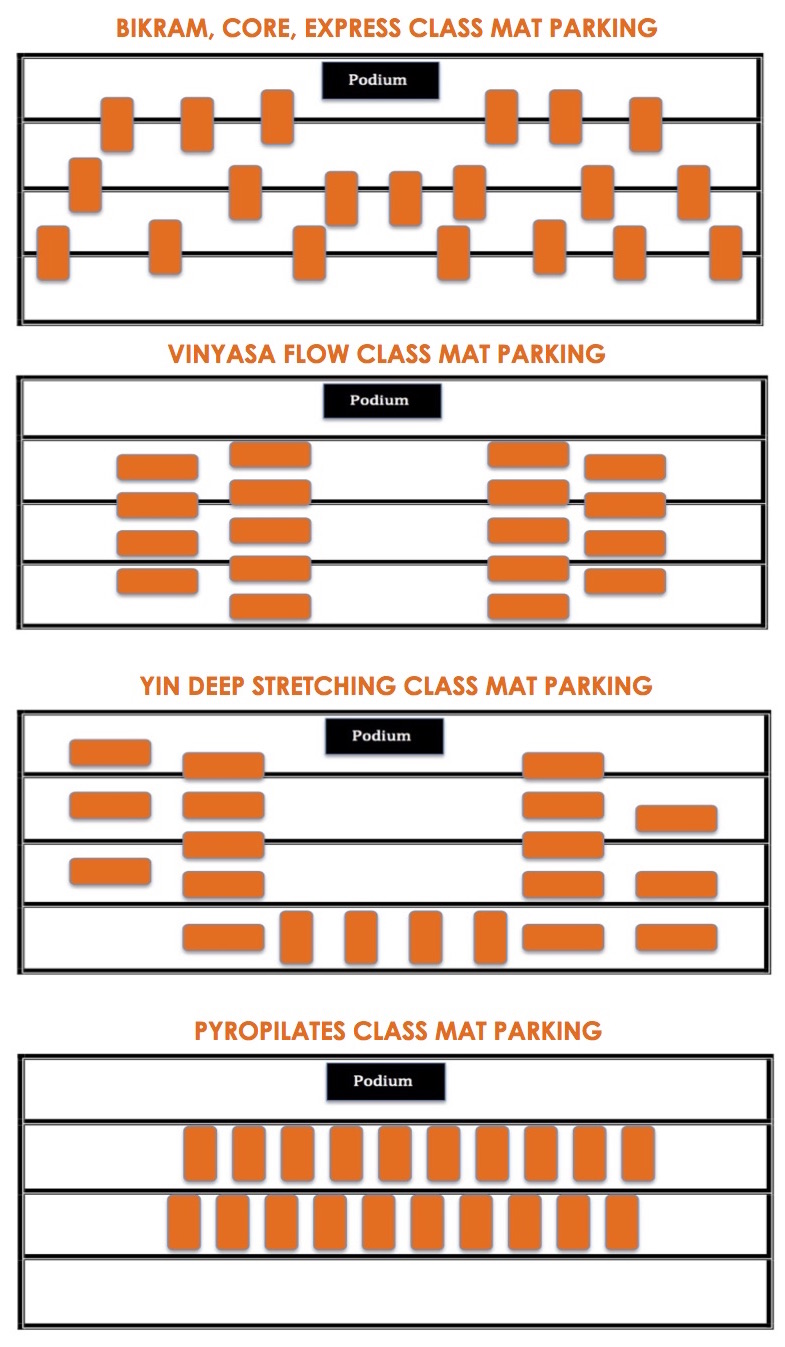 Stay in the Yoga Room
Stay in the yoga room for the duration of the class unless it is an emergency. Feel free to take a break if you need. Leaving class is very disruptive to other students in the class. This yoga class is not a competition! Because of the structure of the class - we do a posture and then we rest and then do another posture - most people find it challenging yet easy to go through the class by taking it one posture at a time. Everyone's ability in each posture may be different. You are guaranteed to get the benefits of yoga by doing the best that you can in each posture.
Keep Breathing
Remember to BREATHE! Breathing continuously will make the class easier for you. If you need to, please feel free to stop for a moment. Calm your breath and heart rate at first by standing still, looking at yourself in the mirror and inhaling/exhaling through your nose. If you really need to, you can sit down or lie down. Always breath through your nose, mouth closed.
Water
No water is taken until after the Eagle Posture to help you warm up the body. After this you may drink water throughout the class. Avoid gulping and drink only small amounts to help you maintain posture comfort. Please drink only between the postures to minimize distraction.
Sweating
You are likely to sweat during your yoga class. Let the sweat run off and try not to continually wipe the sweat off yourself. It is a cooling mechanism.
Stillness
Try to practice stillness between each posture. HAVE FUN! Come with an open mind and open heart and be prepared to sweat.
Immediately After Class
Relaxation Inside Yoga Room
Stay in the yoga room in the final relaxation pose (Savasana) for as long as you need to cool down and allow your breathing and heart rate to return to normal - this helps to integrate all the great work you have completed in the last 90 minutes.
Relaxation Outside Yoga Room
We always have time for students. We have a patio and a lounge area where you can cool down after class. Time to mingle, pick up tips, meet new yogi friends or just enjoy the rush of endorphins through your body!
The Next Day or Next Few Days
Come Back as Soon as Possible
It is best to come to at least 3 classes in your first week. Your mind will quickly overcome the challenge of the heated room and get to know the postures. You'll also start to notice the benefits almost immediately. Stick with the yoga even though the postures and heat may seem strange in the beginning. "It is never too late, never too old, never too sick, never too bad to start from scratch, to bring the body back to it's natural working order."
Soreness or Stiffness
Reactions are varied. It is normal to feel a little sore or stiff. The best thing to do is to get back into the yoga room with the heat and stretch it out. Your body is waking up and coming alive and you want to keep the process going!
Tired or Energetic
You might feel very tired after class. This is absolutely normal and a good sign that your body is cleansing. Your energy levels should be restored to normal within several classes. You might find yourself feeling extremely energetic and experience difficulty sleeping. Don't worry--this is a good sign that the yoga is truly filling you up with energy. You don't have insomnia. You just have more time to do the things you enjoy.
Nauseaus, Dizzy, Headache
You might feel nauseous, dizzy or have a headache after class. This could be a sign that you are dehydrated. Please drink lots of water before returning to class. Or it could be a sign that you were trying so hard that you weren't breathing normally. Please breathe normally during every posture.
Skin Irritations
You might experience some skin irritation. This too is normal, it means that the skin is releasing toxins. Showering directly after class will wash the toxins away. It will also help normalize the body temperature.
Hungry or Lose Appetite
You might feel very hungry after class for a while, or you might lose your appetite completely. Both reactions are normal. If you are concerned about your weight, don't worry too much either way. Once you get into a regular practice pattern, your appetite and your weight will normalize. You'll find yourself feeling and looking leaner and younger.