Sno Johal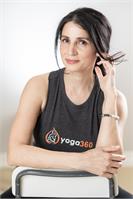 Sno Johal instructs the following:
Vinyasa Flow class will maintain awareness and focus on the breath while moving through a series of postures. The sequence of postures may be different from class to class, but always follow an intelligent progression that moves from basic to complex. This style of yoga builds heat, flexibility and strength, while maintaining focus on good alignment and sound structure. Postures may be held for longer periods of time, and will flow together to unite the body to the breath and mind. The class includes sun salutations, standing poses, seated poses, fundamental backbends and some inversions.

All levels. Temperature: Warm.