Angela Green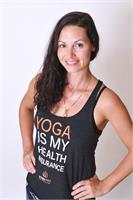 Angela began practicing Bikram yoga in April of 2009. She was searching for something that would add a little variation into her regular workout routine. The yoga was completely different from what she was used to but the change it offered was exhilarating and fun. Early on in her practice, Angela could start to feel the healing benefits from Bikram yoga. She was stronger, more flexible, and relaxed. Her practice continued to progress and she was enjoying it so much that she decided to make this yoga her career. Angela went to Teacher Training in Las Vegas for the Fall 2009 session and has been teaching full time since then.
Her favourite posture is standing head to knee. It is constantly changing from class to class as it brings something new to work on each time. Her least favourite posture is locust as it is such a challenging one for her. In class, Angela always suggests that you go in having fun. Come to class with no expectations and just your smiling happy face!
When Angela isn't teaching or practicing, she enjoys snowboarding and spending time with friends. Then whenever the weather is nice, she fills her day with activities that keep her outside.
Angela Green instructs the following:
The Express 60 class is a 60 minute class based on the traditional Bikram 26 postures and 2 breathing exercises and is taught in a sequence to optimize your body. Some postures

are done once, some twice, and some in a flow. This is a beginner class and gives students a strong foundation, helping them to achieve maximum therapeutic benefits in their practice. It works every part of the body, inside and out, maintaining optimum health and function.

All levels. Temperature: Hot.




Our traditional 90 minute hot yoga class is comprised of 26 postures and 2 breathing exercises. Every posture is done twice. It is a sequence developed by Bikram Choudhury using 26 out of the 84 Asana's from the Ghosh lineage. This is a beginner class and gives students a strong foundation, helping them to achieve maximum therapeutic benefits in their practice. It works every part of the body, inside and out, maintaining optimum health and function.

All levels. Temperature: Hot.




Core class is developed by well-known yoga teacher Tony Sanchez, of the Ghosh lineage. The class includes about 40+ different postures in a specific order, chosen from the 84 original Ghosh postures.

Level: All levels. Temperature: Warm