Mary Lim Hing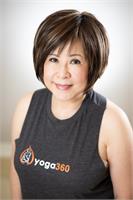 Mary was born in Hong Kong then raised in Manila, Philippines. In 1989, Mary and her husband decided to immigrate to Canada to give their four young children a better opportunity. Once in Canada, Mary was a homemaker and spent her free time cooking which quickly became a passion of hers. After developing carpel tunnel syndrome as well as high blood pressure and lots of persuasion from her eldest daughter Candice, Mary started practicing Bikram yoga to improve her health. That first yoga class changed everything for Mary. She found herself attending more and more classes with her health improving after each one and to her own surprise; Mary completed a 30 day challenge. After seeing how Bikram yoga changed everything for her, Mary went to teacher training so she could share the many benefits with others.
A favourite posture of Mary's is locus pose. It is a difficult posture but with some work it cured her carpel tunnel and took away the pain in her arms. It is hard for Mary to pick a least favourite posture since she loves the benefits from each posture.
Mary is always exuding a positive and nurturing energy in class. She keeps a strong dialogue and hopes to encourage everyone to try their best in class. Mary advises everyone to always keep on breathing and working hard.
When Mary isn't doing something yoga related, she is probably in the kitchen cooking up something delicious. She loves to spend her free time working on all sorts of different cuisines.
Mary Lim Hing instructs the following:
Our traditional 90 minute hot yoga class is comprised of 26 postures and 2 breathing exercises. Every posture is done twice. It is a sequence developed by Bikram Choudhury using 26 out of the 84 Asana's from the Ghosh lineage. This is a beginner class and gives students a strong foundation, helping them to achieve maximum therapeutic benefits in their practice. It works every part of the body, inside and out, maintaining optimum health and function.

All levels. Temperature: Hot.