Candice Lim Hing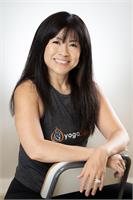 Candice discovered yoga while traveling in India, where she practiced daily on the beach. Upon returning to Canada, she wanted to keep practicing yoga and a friend introduced her to Bikram Yoga. She fell in love at first practice with Bikram Yoga! Candice is always expanding her knowledge and finding ways to share all the benefits of yoga with others. She attended Bikram Yoga Teacher Training in Los Angeles in 2004 and since then has continued to expand her training while running three yoga studios. She has completed other teacher training courses such as Bikram Advanced Workshop in Hawaii in 2006, Kids Yoga Training in Vancouver in 2012, Synergy Yoga Teacher Training with Francisco Morales in Peru in 2012, Ghosh Lineage Master Core Advanced Teacher Training with Tony Sanchez in Mexico in 2013, Yin Yoga Teacher Training with Bernie Clark in Vancouver in 2014, Vinyasa Yoga Teacher Training with Seane Corn in Vancouver in 2015, and Vinyasa Yoga Teacher Training with Eddie Modestini and Nicki Doane. She has also taken various other workshops with renowned teachers like Mary Jarvis, Esak Garcia, Kino Macgregor and Ray Long.
After teaching in different studios in the Lower Mainland, Candice opened the Langley studio in 2007 to bring this therapeutic yoga to a new community. She opened the Maple Ridge studio in 2012 and the Surrey studio in 2013 with her mom, Mary.
Candice loves interacting with all students and is very grateful for the opportunity to share yoga in all communities. She enjoys getting to know everyone so make sure to say hi and introduce yourself!
Candice's classes are all about balance. She has a strong focus on alignment and discipline. She pushes her students to do their best but is also very encouraging. Her discipline will keep you working hard in class and seeing the benefits afterwards. Candice's yoga tips are: breathe and have fun everything else is optional, everyday is different so let go of your expectations and judgements, experiment and get to know yourself physically, mentally and spiritually.
Candice Lim Hing instructs the following:
PyroPilates is a low impact training system that combines pilates based deep core strengthening along with cardiovascularly challenging High Intensity Interval Training for an intense, fun workout that increases strength, stamina, flexibility and quality of life. PyroPilates classes are typically conducted in a heated room with 30-40% humidity.




Combination of all the classes we offer: Bikram, Core, Vinyasa, Yin and PyroPilates. 60 Minute Class. Class is warm. All levels welcome.




Vinyasa Flow is a fluid practice of movement and breath to delve deeper into the freedom of your body and heart. The class includes sun salutations, standing poses, seated poses, fundamental backbends and some inversions. This class is suitable for students of all levels! This class is warm not hot.






Our traditional 90 minute hot yoga class is comprised of 26 postures and 2 breathing exercises. Every posture is done twice. It is a sequence developed by Bikram Choudhury using 26 out of the 84 Asana's from the Ghosh lineage. This is a beginner class and gives students a strong foundation, helping them to achieve maximum therapeutic benefits in their practice. It works every part of the body, inside and out, maintaining optimum health and function. Bikram Yoga is suitable to all levels of practitioners. This is a hot class.




The Core class is a 90 minute class comprised of 40+ postures and 2 breathing exercises. It is taught in a sequence developed by Tony Sanchez and provides greater reflection on the spine and core. It compliments the Bikram beginner class as it works different muscles, and focuses more on arm and core strength and opening the hips. The Core class is done in moderate heat and is suitable for all levels of practitioners.




This Yin/Deep Stretch yoga class is a slower paced with poses or asanas held for longer periods of time—3 minutes to 10 minutes per pose is typical. This class is a complement for your regular practice. Yin yoga poses apply moderate stress to the connective tissues—the tendons, fascia, and ligaments—with the aim of increasing circulation in the joints and improving flexibility. There is little "dialogue" in this class, there may be music, it is room temperature, and please bring blocks and/or bolsters if you have them.